JoGé Services offers the following services.
Packing of all kinds of flowers
There are several options at this service. At the first option the customer decides what is packed in which box. The customer provides the boxes and the labels.
It is also possible that the customer buys flowers at the auction. We pick up the flowers and pack them back to the less possible space. We can offer the boxes against low prices and we print labels on the boxes. When the shipment is complete, we can send the customer a packing list by mail or fax.
We also can prepare your flowers in different ways.
Wrapping in paper or slaving in a plastic bag.

Wrapping in paper or slaving in a plastic bag with a bag of flower food taped on the bunch.

Rebunch the flowers in a different number of stems (x2,x3,x4,x5 etc)

Rebunch the flowers assorted.
Building of trolleys and pallets
At this service we pick up your flowers or plants at the auction, and we will build them for transportation conform your demands. This service combines perfectly with the packing of flowers. When you have less space than flowers we can always pack the flowers. Because we have a dock shelter at our place, it is very easy to load your truck(s).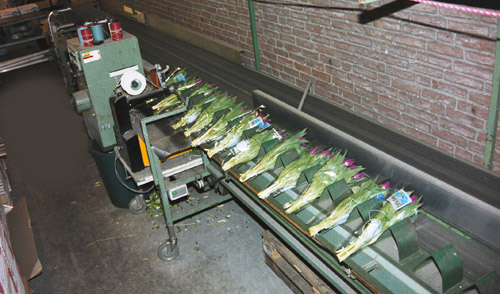 The original activity of JoGé was unpacking of import flowers. For this service we own a flower processing machine of van den Berg. On this machine we can slice your flowers to an different length, and binds the flowers again if needed.
This service is not available during the weekends.
Transportation from your location on the auction to JoGé
At all services we provide transportation. Therefore we have a truck, which can load 14 auction trolleys, and a minivan for speed deliveries. Depending on the made price deals, we charge a financial compensation for this service. We don't have a license for transportation different than the auction or our own place.